Commercial Roofing Services in
Keller Texas
When it comes time to repair or replace your commercial roof, you want a roofing contractor who has the knowledge and experience to ensure that your project goes smoothly. Additionally, you want a contractor who offers more than one solution, so that you get the proper roofing system for your building. Dalco Contractors & Roofing offers multiple options to ensure that you not only get the roof you need, but also the one that meets your budget constraints. We are here to listen to your goals and concerns, and then devise a plan to get you exactly what you need.
Our commercial roofing company specializes in all types of roofs including:
Contact Us Today For Your Free Inspection
Roofing Installation, Repair and Maintenance Services
Whether you are dealing with a repair emergency, or curious about prices and the cost to re-roof your building, we are able to respond immediately to your request. We install and repair roofing systems, across the range of buildings and property types. Listed below are common commercial roofing service requests, but no job is too big or small. If you have questions or need a knowledgeable partner, just let us know how we can help.
Roof Installation & Re-Roofing
We understand the importance of re-roofing occupied commercial buildings so that there is little to no interruptions on the operation of the facility. Thus, our roof installations are well-planned for maximum efficiency.
Severe weather or a faulty roof component may require immediate response to avoid interrupting your normal business operation. You are our priority, and we are available and at your service 24 / 7.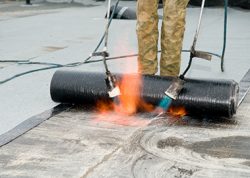 Monitoring the maintenance of your roof is an unnecessary responsibility when we can perform scheduled inspections and repairs that add years to the life of your roof. Our crew provides proactive services so you can focus on your business.
Call Today For Your Free Estimate
Industries We Proudly Serve
As leading commercial roofers, we have worked with clients in varied industries, servicing roofs on a wide variety of property types.
Below are only some of the property types and projects we have performed. If you have a retail, high-rise, hotel, medical, manufacturing, industrial, or commercial property of any type, we will be glad to assist and lend our commercial roofing expertise. Whether you are looking to repair, coat, maintain or replace your roof, contact us for a free commercial roof inspection.